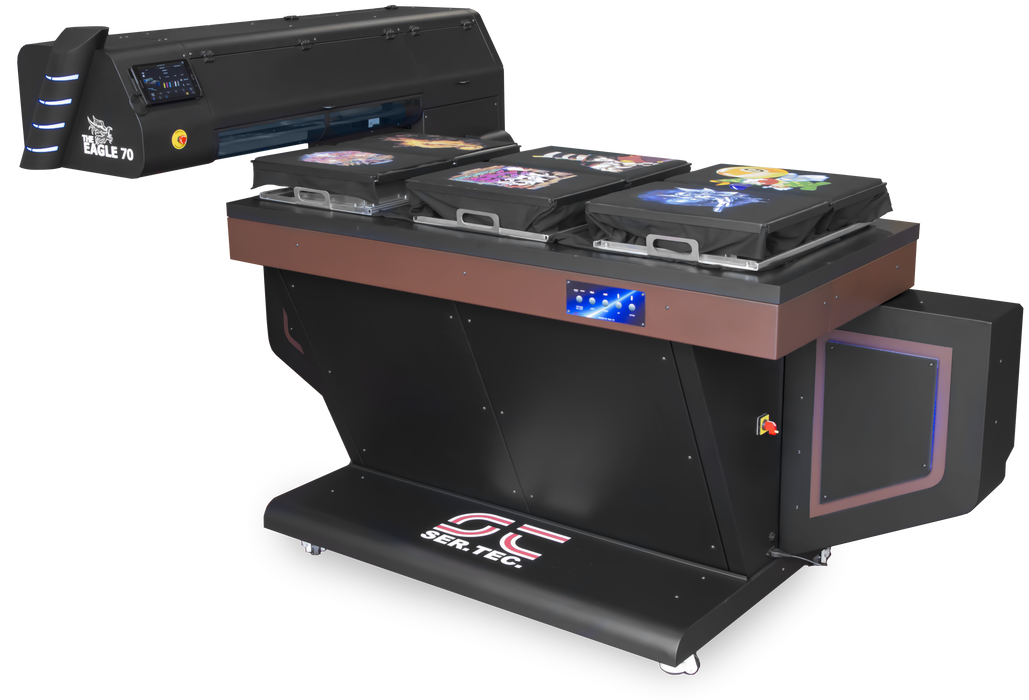 Sertec Eagle TX 70
Save up to

$0.00
Save

$-700.00
Original price
$59,000.00
-
Original price
$79,000.00
Original price
$59,000.00
The Eagle TX series is perfect for printing every item of clothing and is made up of several models, Eagle TX 70 and Eagle TX 130 which are different for the print width, and the new Eagle TX S series, which allows a greater production thanks to the possibility of mounting from 2 to 4 configurable heads. Finally, for the large format, the Eagle TX XL, with the possibility of a print table with a customizable length that allows you to print an even wider surface.

Thanks to Ser. Tec's Multihead technology Eagle TX 70 can be equipped with two printheads, drastically increasing the printer output.

Like the other Eagle printers, Eagle TX is provided with a white recirculation system with pressured colours, height sensors, and brushless engines with encoder sensors.
The supplied equipment includes the WhiteRIP dedicated software, with specific functions, realized purposely for Textile Printing.

Remote printer management via tablet allows you to view printer status and perform management operations even without being physically close to the printer. Moreover, thanks to its wing design, Eagle TX 130 allows continuous work without interruptions, ie it is possible to load and unload the boards on one side while the printer works on the opposite one.
Material Thickness up to 250mm
One of the most important features is the ability to work with a variable thickness of up to 250 mm. The machine automatically detects the height of the object and sets all parameters to achieve optimum print quality.                                                                                                                                

 New Generation Printheads
The new print heads have a better performance, they last longer thanks to the mirror treatment to prevent the deposit of color and clogging of the print nozzles.                                                                                                                                                                                                                   
The optional double print head
Thanks to the proprietary multi-head technology it is possible to manage 2 independent printheads, increasing the printing speed without affecting the quality.
Open Ink System (Bulk)
The under-pressure ink system avoids the formation of an air bubble on the circuit, the white ink is also on constant recirculation to avoid sedimentation. The result is a global cost reduction with reduced maintenance downtime and less print head cleaning required.                                                                                                                                                                                                                                                                                          
Remote management via tablet
Eagle printers of new generations can be controlled remotely via tablet. This allows the operator to perform the normal management operations and always have the printer status available.
Dedicated software RIP
WhiteRIP is the professional printing software developed by EV Network s.r.l that has a specific function for textile and industrial printing to increase output and reduce preparation time like inline printing and template management.
Textiles Applications




Options
Custom platen
The equipment includes standard size platen, but if you need we can provide platen of non-standard size and print the full table. We have also a platen for jeans and caps to let you print on any garment you want.


Technical details
Eagle TX 70
Printing Technology
piezo drop-on-demand, multilevel inkjet technology (3-6 picoliters)
Print heads
1 or 2
Resolution
Min
360 dpi
Max
1440 dpi
Maximum Printable Area
Width
700 mm (27.56")
Length
1500mm (59")
Maximum Material Thickness
250 mm (9.84")
Inks
Waterbase
Available color configurations
CMYK CMYK (Double four-color process)
CMYK+W ( four-color process + White )
2xCMYK + 8xWhite (only with double printhead option)
Power Supply
AC 100 a 240V +-10% 50/60Hz
Power Consumption
500W
Operating Environment
20-25°C Humidity 35-80% without condensation
Included Software RIP
WhiteRIP 7