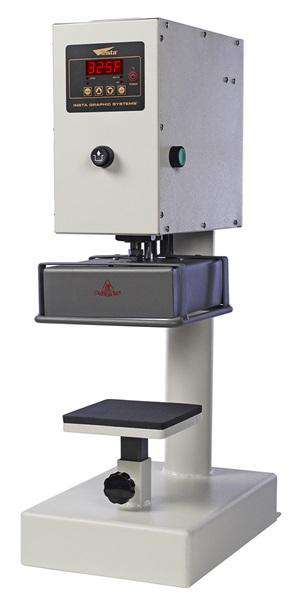 INSTA 909
Save up to

$0.00
Save

$-3,725.00
Original price
$3,725.00
-
Original price
$3,795.00
For the Application of Labels & Logos.
Built with the superior craftsmanship Insta is known for, the Insta 909 Digital Single Station heat press machine has been specifically designed for the rapidly growing heat transfer label industry. This automatic digital heat press is air operated to help prevent operator fatigue and promote consistent production speed. Its 6"x6" platens lend itself to the application of tagless labels, as well as, logos and small graphics. Our tagless label heat press is always consistent with its results, the Insta 909 is used for its high-speed application capability and its reliability under 24/7 use.
Results You Can Count On
The Insta 909 digital heat press has been specifically produced to achieve and evenly distribute extraordinary pressure throughout the entire platen. And, its cast-in tubular heating element heats the metal from within, to produce constant and long-lasting heat. A successful heat transfer application requires 3 key elements to work in tandem– time, temperature and pressure. The Insta 909 has mastered those elements and gets the job done every time.
Consistent results for high-speed applications

Single-station automatic machine

6" x 6" platen with small accessory 2.5" x 2.5" platen option

Integrated digital control for time, temperature and cycle counter

Hands-free foot pedal operation accessory option

Made in the USA.
Insta Design Advantages.
Central Pressure Source The pressure source is strategically placed over the center of the upper platen and uses struts to drive that pressure out to all corners. The result is an even and heavy duty distribution of pressure that is unmatched by other heat presses in the market today.
Cast-In Heating Element The tubular heating element is cast into the aluminum upper platen, heating the metal from within. The element is coiled throughout the upper platen to provide a reliable and even circulation of heat out to all corners.
Integrated Digital Controller Which features controls for time, temperature (Fahrenheit or Centigrade) & auto-off.
Operator Benefits.
Hands-Free Operation The foot pedal attachment is an optional accessory that allows you to operate the Insta 909 completely hands-free.
Enhanced Productivity The Insta 909 produces consistent results and reduces costly errors. Operators experience less stress, reduced fatigue, and enhanced productivity.
Solid as a Rock Construction.
High Quality/High-Value Machines made from cast metal are considered to be the highest quality and are strong enough to withstand heavy use without warping or bending.
Best possible return on your investment The Insta 909 is extremely durable and, if cared for properly, can last for many years to come. You'll get the best possible return on investment when you buy an Insta!.
Working Space Dimensions.
Depth: 22" (55.88 cm)
Width: 32.75" (83.18 cm)
Height: 19" (48.26 cm)
Power: 120 volt - 1000 Watts, 8.3 Amps / 230 volt – 920 Watts, 4.0 Amps
Shipping Weight: 88 lbs. (39.9 kilos).