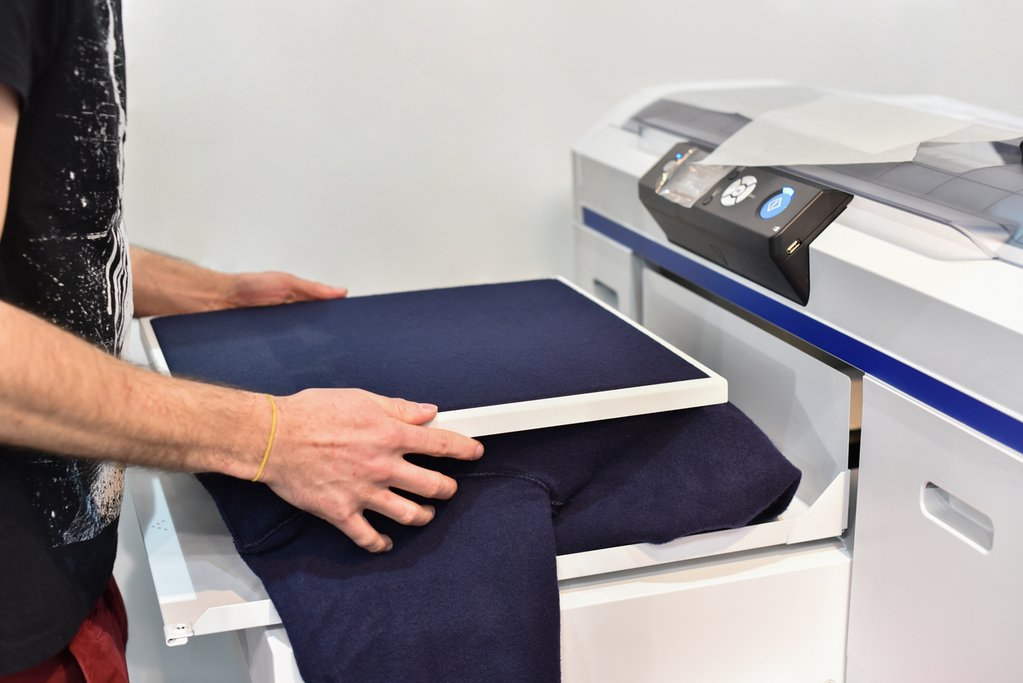 10 Benefits of DTG Printers
Direct to garment printing (DTG) has revolutionized the apparel industry and updated the creation of graphics on clothing for the digital age. Now, instead of costly screen printing, designers and manufacturers can create digital artwork and print it directly on a garment using a DTG machine. Here are some of the benefits of DTG printers.
DTG Printing Is Ideal for Small Businesses
Screen printing involves a great deal of setup, which means it's usually only cost-effective with the most straightforward designs or when large garments are printed. DTG printing isn't much more involved than printing on paper—your design is sent from a computer to the DTG machine, and the printer does the rest.
In fact, DTG printers might look different from traditional paper printers, but they function much like any other inkjet printer. They use a digital piezo print head to print images directly onto garments. While there's undoubtedly still a place for screen printing in the garment industry, when a small business or organization wants to create a small number of garments, DTG printing makes them more easily affordable.
DTG Printing Offers More Options
Screen printing can be quite limiting, as the more detail and colors involved, the more work is required. With DTG printing, any array of vibrant colors can be used, and the process of printing a simple design isn't any different than printing a complex, detailed graphic. DTG printing is even able to handle printing photographs on garments with crisp, clear results.
With DTG machines, it's possible to print over zippers and onto other garments that were previously off-limits or difficult for different methods of printing. This versatility can result in increased profits, with customers creating hats, totes, and other items to complement the t-shirts they order.
DTG Printers Are Sustainable
DTG printing has wholly upended the process of creating graphic t-shirts and other apparel. Because there's no advanced setup required, DTG printing can create one-off designs or print-on-demand, eliminating waste from unsold stock. Overproduction is endemic in the textile industry, but DTG printers help stop this.
In addition, the inks used by DTG printers are water-based and eco-friendly, reducing your operation's environmental footprint. 
DTG Printers Are Easy To Use
Screen printing requires a great deal of skill, expertise, and training, but DTG printing makes it easy to create quality printed garments without having to hire a team of employees who have years of experience in the industry. The same person who takes the order can print the garments and prepare them for delivery.
DTG Printers Require Less Space
Even in a busy, crowded print shop, you likely have space for a DTG printer—especially when compared to the space needed for a screen printing operation. Smaller space requirements make DTG machines an option for printing businesses of all sizes.
DTG Printers Offer Expanded Graphics Capabilities
Thanks to their RIP (Raster Image Processor), any major DTG system can print any picture from full graphic images to any type of vector. This is one of the advantages it has over screen printing, which does not have the ability to print regular pictures taken by digital cameras. This means that with DTG printing, you can print any photo taken with your camera into a garment.
DTG Printers Offer a Versatile Array of Platens
Many DTG systems offer their customers different options to print over T-shirts (various sizes), shoes, hats, towels, masks, and depending on your application; some companies also focus on developing customized platens application needed.
DTG Printers Offer Lower Cost of Production vs. Screen Printing
It is worth mentioning that in low volumes, let's say less than 100 shirts per model/design, DTG printing will have a lower cost of printing per unit than the traditional screen printing process. 
Fewer costs involved in the process means more savings using this technology.
DTG Printing Technology Offers Different Levels of Productivity and Features
Since this niche has been evolving consistently over the last ten years, the market offers different printer levels from entry-level to industrial solutions. Moreover, this technology has seen an upward trend in consistency, quality, and high performance—the future for sure looks digital.
DTG Printing helps you expand your business
Thanks to its multiple applications in different kinds of textiles garments(T-shirts, caps, shoes, etc.) and other textile products like towels, pillowcases, and even canvas for art reproductions, it is one of the best printing technologies to expand your present business. 
Learn More About DTG Printers
At DTGTEX, we carry DTG print heads, printers, and parts. Contact us today at 1-714-386-9587 to learn more or speak with one of our printing industry experts.